Release Features
Ask the Safety Expert
Ask the Expert was moved within the Resources menu and references to "Ask the Expert" were updated to "Ask the Safety Expert".
Need Assistance Menu
The Need Assistance menu has been added at the bottom of the risk management platform. When opened, users can type in keywords and search for help articles and guides for commonly used functions.
Included in these help articles are interactive tutorials which provide users a step by step guide through setup procedures such as adding sites, users, roles and employees.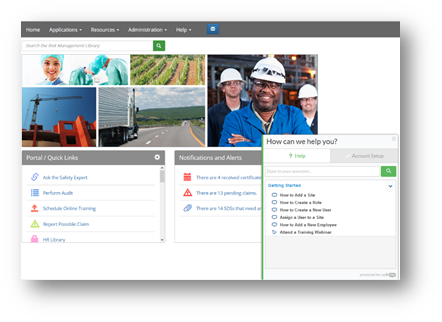 Moved Ask the Safety Expert to Resources
The Ask the Safety Expert feature has been moved to the Resources tab as the Services tab has been hidden to allow for the service offerings to be updated.